Health Policy Fellowship
AAHKS believes in the importance of engaging young, future leaders to assure they remain involved throughout their careers.
Advocacy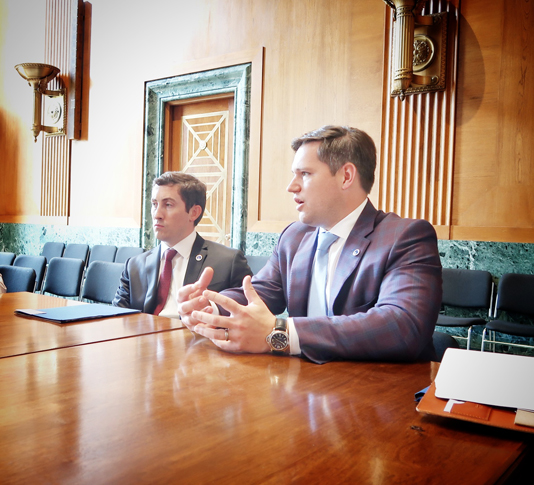 Nicholas B. Frisch, MD
Healthcare delivery continues to evolve, and as orthopaedic surgeons, our traditional education does little to prepare us for understanding the complexity of change in our healthcare system. The AAHKS Health Policy Fellowship presents a unique opportunity to not only gain exposure to the issues, it also provides a first hand experience on the ground – working with the leaders in our field to advocate on behalf of the entire arthroplasty community.
I've developed a strong relationship with several other members of the AAHKS community. Throughout this fellowship, I have been amazed at the number of additional opportunities that have been made available through those relationships. I'm finishing my second year in the program and can tell you this has been a defining aspect of my training that has truly shaped the way I'm developing my clinical practice.
Throughout the past decade, there have been many developments in the laws and regulations affecting patient care reimbursement for hip and knee surgery. The legislative and regulatory bodies dealing with this area have undergone significant changes. The American Association of Hip and Knee Surgeons (AAHKS) sees a pressing need to develop strategies in dealing with these changes, and to exercise influence over the law-making process. This involvement is necessary to maintain adequate compensation and reimbursement for services performed by hip and knee surgeons, as well as to insure the quality of services rendered.
AAHKS believes in the importance of engaging young, future leaders to assure they remain involved throughout their careers. The Health Policy Fellowship (HPF) provides you with an opportunity to get involved in the policy-making process and to help you become an effective advocate. The goal of this program is to provide you with the requisite exposure, training and skills to advocate the health policy efforts of AAHKS.
AAHKS Health Policy Fellowship Model
The Fellowship is a two-year program that provides exposure to the various legislative and regulatory bodies that impact our members' ability to render healthcare services to their patients. This part-time model can be integrated into a full-time practice or training program.
Fellows are expected to:
Attend the AAHKS Legislative Retreats, AAOS National Orthopaedic Leadership Conference, AAHKS Board of Directors Meetings at AAHKS and AAOS Annual Meetings, and various Council/Committee meetings of the AAOS, AMA, BOS and AAHKS, as appropriate.
Participate in the AAHKS Advocacy Committee Conference Calls and attend other forums as deemed significant to the Mission of AAHKS.
Develop a topic for a presentation or publishable paper to be presented at the AAHKS Annual Meeting in the second year of the Fellowship.
Practice close communication with the designated mentor or chair of the Fellowship program.
Eligibility Requirements
The HPF is open to orthopaedic surgeons in the United States now entering or currently participating in a Joint/Adult Reconstruction Fellowship, or who have completed this fellowship and are within the first four years of their clinical practice of orthopaedic surgery.
Prior experience in areas of Health Policy or Health Care Economics is advantageous but not required.
Applicants should be eligible as Candidate or Fellow members in AAHKS and United States citizens.
Mentorship
AAHKS leadership has made an integral commitment to Health Policy Fellows that they will work closely with senior volunteer mentors who can provide technical expertise related to daily activities, assist in accessing AAHKS resources, and help identify the collaborative opportunities within AAHKS. The program encourages co-authorship of papers and articles with mentors as appropriate.
Applications Open in August Each Year
Applicants must be AAHKS members. To be considered for the HPF, please email or post the requirements listed below to Joshua Kerr, Director of Advocacy and International Activities, at jkerr@aahks.org or 9400 W. Higgins Rd. Suite 230, Rosemont, IL 60018 no later than October 1:
Cover Letter
Up-to-date Curriculum Vitae
Personal statement: In 500 words or less, tell us why you want to be a Fellow. Tell us what your health policy interests and strengths are and why you have interest and strength in these areas.
Entering and current fellows should include a letter of support from the Director of their Adult Reconstruction Fellowship
Actively practicing applicants should include two letters of support from AAHKS Fellow Members who have in-depth knowledge of the applicant's practice and advocacy interest.
Current and Past Health Policy Fellows
2020-2021
Brian M. Culp, MD
Justin T. Deen, MD
Chad A. Krueger, MD
Sean S. Rajaee, MD, MS
Sharon L. Walton, MD, MS
2019-2020
John Andrawis, MD, MBA
Mo Halawi, MD – HPF Report
Joseph Kavolus, MD
2018-2019
Stephen M. Engstrom, MD
Vasili Karas, MD, MS
Linda Suleiman, MD
2017-2018
Nicholas B. Frisch, MD, MBA – HPF Report
Juan C. Suarez, MD – HPF Report
Brad S. Waddell, MD – HPF Report
2016-2017
Chancellor F. Gray, MD – HPF Report

Roshan Shah, MD, JD – HPF Report

2015-2016
P. Maxwell Courtney, MD
Alexander S. McLawhorn, MD, MBA
Adam A. Sassoon, MD, MS
2014-2015
Stephen T. Duncan, MD
2013-2014
Christine M. Pui, MD
Louis S. Stryker, MD
2012-2013
Adam J. Rana, MD
2011-2012
Atul F. Kamath, MD
2010-2011
Gregory E. Raab, MD
2009-2010
Neil P. Sheth, MD
2008-2009
Sanaz Hariri, MD